The interior architect Nicolas Trousselle has restored this Haussmann-style apartment to its former glory located in the heart of Paris. Through woody textures and precious materials, the architect transports us into both a classic and contemporary universe. With specifications defined and established with the owners of the premises, he skillfully combines luxury and family life. The owners wanted the reception rooms and the rooms they use daily to flow fluidly between one another. Why? Because the family has 4 children! Having paid close attention to his client's wishes, Nicolas Trousselle has renovated this 300m² space into a welcoming home.
Immerse yourself in the apartment with a 360° virtual tour and visualize the space for yourself
To visit the apartment, just move the cursor with your mouse to navigate inside the video! Labels placed on certain items of furniture, objects or pieces of art will reveal the identity of the selected object. You will also find some of Nicolas Trousselle's comments.
"One style, one signature"
The interior designer works passionately with renowned artists and craftsmen with exceptional expertise. This allows him to infuse a unique style and signature.
A faultless journey
A former student of the Ecole Boulle, and a graduate of the Métiers d'Arts, Nicolas Trousselle created his agency Secrets d'Intérieurs after several years spent working in major design offices. His contemporary and classic style has already won over many customers in France and abroad.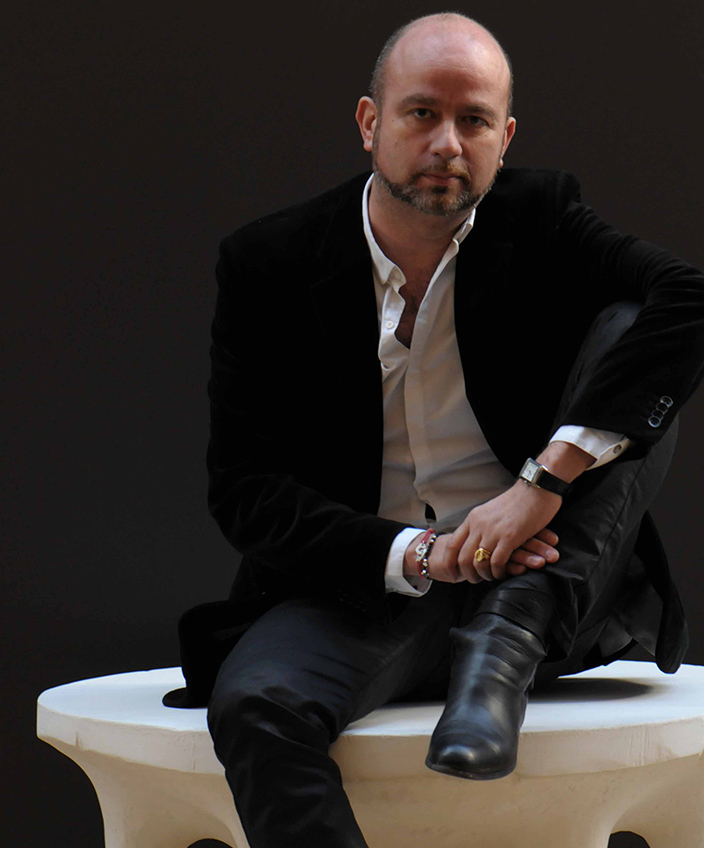 Interview de Nicolas Trousselle
Interior designer / Secrets d'Intérieurs agency
Why did you become an interior designer?
Nicolas Trousselle : I have always felt attracted by the world of shapes, colors and materials. These elements have always resonated with me in my personal life and in my professional choices. The balance of spaces, the soothing of the senses as well as the well-being felt in the home – for me it's a place of regeneration and union. It is a private and privileged place where you can recharge yourself; this has always been the essential factor that has guided me towards my current profession. My training at École Boulle, with a diploma in fine crafts, allowed this creative and sensitive predisposition to strengthen my artistic and technical knowledge. That is essential to the successful completion of a rigorous and original project.
Where do you get your inspiration from?
Nicolas Trousselle : Everything around me has a real influence on my choices or inspirations. My sensitivity pushes me to exchange, listen, look and transcribe everything that life offers us into what shall become a creative and innovative project. Intuition and sharpness of perception are among the essential factors linked to my proposals. I admire the savoir-faire and knowledge of our "elders", because with much less developed technical means than us they managed to work wonders. They created unique pieces whose durability and excellence remain undeniable even today. It was done across all fields: architecture, sculpture, painting, cabinetmaking, embroidery, trimmings, metal and crystal arts, to prestigious and elite standards.
What are your points of reference ?
Nicolas Trousselle : The encounters of life. My family, my spouse, my friends, my craftsmen, the trust of my clients, all those people and all those things that make your life and experience a special moment, a privileged moment, a moment of work and sharing with the objective of understanding us and sometimes even taking up a challenge fuelled by our desire to succeed fully, in a relationship of mutual trust and to renew my creative proposals indefinitely. Man's greatest and most successful achievements are the result of the sharing of knowledge, the differences of each individual and their fierce desire to achieve excellence. A passion that allows us to touch our dreams of harmony with our fingers.
Secrets d'Intérieurs
Nicolas Trousselle
4, rue de Babylone
75007 Paris
Tél. : +33 (0)6 10 71 83 39
secrets-dinterieurs.com